Archive for November, 2013
Best Black Friday Jewelry Deals – Shopping for the best jewelry for your wife, girlfriend, sister, mother or daughter without emptying your pockets makes Black Friday of Super Jeweler the best event this year. Super Jeweler featured the best selling necklaces, earrings, bracelets, and rings perfect for all ages. Shopping for Deals Online shares with you these best Black Friday jewelry deals with FREE shipping:
Best Black Friday Jewelry Deals #1
Swarovski Elements Floating Heart Bracelet In Brushed Gold Tone
This Swarovski Elements heart bracelet is perfect at any occasion. Featuring a Swarovski Elements crystal studded heart, this bracelet really stands out among the crowd. The heart is attached to gold tone chain with a lobster claw clasp.
Price: $14.99 (Save $65.00)
Best Black Friday Jewelry Deals #2

15ct Amethyst Teardrop Earrings In 18K Gold Over Sterling Silver
The lovable Amethyst tear drop earring set pairs perfectly with any dress or blouse. With a comfortable fish hook backs, each earring hangs down one inch. The total weight is 15 carats and the earrings are crafted in solid sterling silver with 18 karat gold-overlay.
Show your beauty everyday with these stunning earrings!
Price: $39.99 (Save $260.00)
Best Black Friday Jewelry Deals #3

1ct Black Diamond Tennis Bracelet in Sterling Silver
This Sterling silver black diamond studded bracelet shows edge and femininity. With 50 sparkling black diamonds, every woman would definitely love this bracelet!
Price: $99.99 (Save $500.00)
Best Black Friday Jewelry Deals #4

Super Shimmery Swarovski Elements Crystal Heart Locket
This unique Swarovski Elements crystal heart locket will surely make a wow factor the moment you step in the crowd! This lovely heart hangs on a thick braided chain that is 18-inches long.
This is one of Super Jeweler's best selling product and got a lot of amazing positive reviews from its customers.
Price: $29.99 (Save $100.00)
Best Thanksgiving Centerpieces Under $50- Celebrating the traditional Thanksgiving can turn into a modern way of enjoying every second of it. Planning on what food to prepare or what drinks to serve is important as the event itself and to make the dinner more memorable, Thanksgiving centerpieces could make it happen. Shopping for Deals Online shares these stunning Thanksgiving centerpieces from 1800Flowers under $60!
Best Thanksgiving Centerpieces Under $60 #1
This stylish centerpiece is indeed perfect for family dinner on Thanksgiving. A combination of Western red cedar, seeded eucalyptus and variegated holly, and accented with realistic tallowberries, pinecones and an elegant ivory pillar candle makes it unique and elegant to look at.  
Set in a rustic galvanized tin planter, it's the perfect mix of modern style and traditional charm.
Price: $59.99
Best Thanksgiving Centerpieces Under $60 #2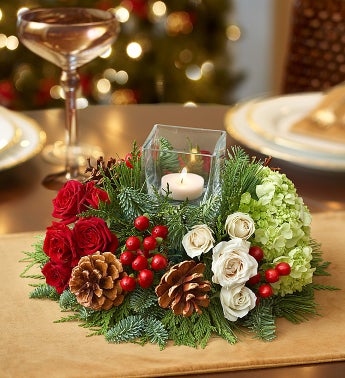 Very Merry Modern Centerpiece
This modern beauty features red and white roses, green hydrangeas and assorted Christmas greens accented by hypericum berries and realistic pinecones.
At the center of this hand-crafted arrangement is a clear glass cube vase with a tea light candle inside, ready to cast a cozy and contemporary glow on the holiday festivities.
Price: $49.99
Best Thanksgiving Centerpieces Under $60 #3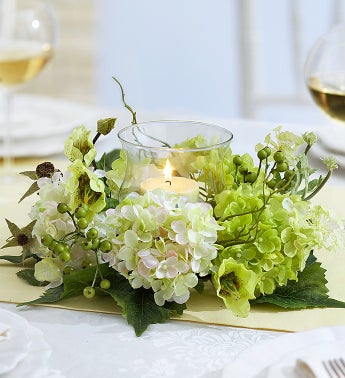 Whether they're lining the streets of the neighborhood or brightening up a bouquet, there's no denying the unique beauty of hydrangeas.
Made from luxurious silk, the blooms in this gorgeous centerpiece seem to come to life. Delicately surrounding a glass candleholder, they'll bring a little bit of charm and ambience into your home.
Price: $49.99
Best Thanksgiving Wines Under $20- Are we all ready to celebrate one of the most important holidays this year with our friends and families? And do not forget the star of the dinner menu, the turkey! Of course, this turkey will not be complete without the taste of the best Thanksgiving wines. Shopping for Deals Online found some of these luscious and delectable wines anyone will can afford from Wine.com:
Best Thanksgiving Wines Under $20 #1
With over 100 years of family legacy, this exceptional wine was released in 1972 and stays heavenly from the moment it was made until the present time.  Blended from reserve wines selected for their intense fruit character and depth of color, Fonseca Bin No. 27 spends four years in large wood vats prior to bottling. Although it may improve slightly with bottle age, Bin No. 27 is ready to consume when bottled. It does not require decanting, as a cold precipitation prior to bottling prevents any "crust" from forming. Its well-knit structure, rich, velvety full body and luscious blackcurrant and cherry flavors, also evident in the nose, carry into an intense, lingering finish.
Price: $19.99

Best Thanksgiving Wines Under $20 #2
Light straw yellow in color with a lively froth. Bouquet of white peach and orange blossoms. Fruit forward, with peach and almond flavors.
Prosecco Brut makes an ideal aperitif and also pairs wonderfully with antipasto and hors d'oeuvres, light fish dishes, sushi and sashimi, fresh fruit, and pastries. Serve chilled.
Price: $12.99
Best Thanksgiving Wines Under $20 #3
Seghesio Sonoma Zinfandel 2011
Spicy lush black fruit flavors of Alexander Valley. Briary and raspberry flavors are present, along with structure of of cooler Dry Creek Valley. Overall, this is a balanced and elegantly structured Zinfandel.
By every report and what we have seen in early tastings, 2011 is an uneven vintage, especially as far as red wines are concerned. This extremely well-made working proves that, as always, very good wines await those willing to search, and it hits the varietal mark smartly. 
Price: $19.99
Best Florida Hotels Under $100- The season of sharing is already a few weeks away and the best way to celebrate it is by spending our time with our friends and families and share our blessings with each other. To make the gathering more special, make a vacation plan whether it's a simple or extra ordinary get away as long as everyone is present. For those who choose Florida as their destination, here are some Expedia's best Florida hotels you could definitely afford.
Best Florida Hotels Under $100 #1

Monumental Movieland Hotel Orlando
The friendly hotel in Orlando grabs the eye of family members not only for its exceptional features and amenities but also to exciting adventures everyone would definitely enjoy. From Titanic the Experience to Pirate's Dinner Adventure, Monumental Movieland Hotel will keep you and your loved ones happily busy.
Price: $45 (Save $22.00)
Best Florida Hotels Under $100 #2
The happiest place on earth is just one mile away from this one in a hundred hotel in Florida. Not only in Walt Disney World everyone can have fun. Visit Sea World, Wet 'n Wild, and Universal Studios within 15 miles from Ramada West and experience the adventure of the lifetime.
Price: $39 (Save $21.00)
Best Florida Hotels Under $100 #3

Sheraton Lake Buena Vista Resort
One of Florida hotels that offers comfort, adventure, and luxury all in one place. With a pool complex, spa tub, and children's pool, you'll surely won't have any excuse to not enjoy this vacation with all your loved ones. 
Price: $86 (Save $37.00)