Archive for October, 2013
Halloween Costume Jewelry Under $20 – The spookiest day of the year is already coming and most people of all ages really prepare their outfits not to be the most fashionable but to be the scariest and most unique costume in the neighborhood. Shopping for Deals found these costume jewelry from the best Halloween costume and accessories provider, the Spirit Halloween.
Halloween Costume Jewelry #1
Make your sexy Gothic Vampire costume more elegant with this lovely red choker with black jewel. Vintage style necklace with lace patterning and black jewel detail will liven up any evilicious look!
Price: $9.99
Halloween Costume Jewelry #2
This excellent Halloween accessory looks intimidating but is actually harmless– it's made of rubber. The spiked strap doubles as both a bracelet and a necklace, depending on your desire. Grab three for your neck and arms, and you've got a great ingredient for a wrestler costume, caveman costume, or Mr. T costume!
Color – Silver/Black

Made of vinyl and latex

one size fits most
Price: $3.99
Halloween Costume Jewelry #3
The details make the difference in any costume and this Vampire Bat hand jewelry is decidedly different – wear it to complete your costume with amazing style.
The Vampire Bat hand jewelry is a metal bracelet with three faux 
Price: $12.99
Halloween Costume Jewelry #4
If you're gonna go as one of your favorite girly ghouls on Halloween, you can't forget to accessorize! Wear these trendy officially licensed Monster High Earrings to complete a stylish costume. Blue and pink rhinestone stud attaches to dangling chain with cute charms, including the classic skull logo.
Price: $5.99
Best Halloween Flower Arrangements – Even scary could be happy with 1800Flowers Halloween themed flowers with new designs and arrangements. These flowers will turn an ordinary Halloween party to a spooktacular event!
Best Halloween Flower Arrangements #1
The ever traditional scarecrow man has become a more exciting and cheerful handcrafted ornament in the US but instead of using a pumpkin, the talented husband and wife team at Meadowbrooke Gourds decided to illuminate a gourd with an amber light perfect for a centerpiece. For everyone, this is the highlight of a great Halloween party!
This could also be used at Thanksgiving and festivals in which you can choose 3 different sizes!
Price: Large= $79.99
Medium= $49.99
Small= $39.99
'
Best Halloween Flower Arrangements #2
Let this cute little witch make your Halloween party fun and lively with her orange kalanchoe in a playful planter. Her gullible smile and dangling feet will definitely make every party guest smile.
Make your Halloween party unforgettable and unique with Bewitching Halloween Plant! 
Price: $29.99
Best Halloween Flower Arrangements #3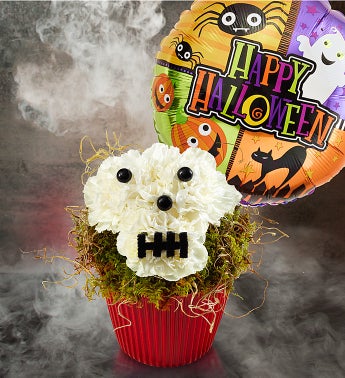 Bad to the Bones Cupcake with Halloween Balloon
Who says the Grim Reaper can't be as cute and fun as this flower arrangement? Not to mention the colorful Halloween balloon that brightens up every Halloween party!
The skull is made up of fresh white carnations in a red cupcake cup container with spooky moss.
Price: Bad to the Bones Cupcake™ = $34.99
Bad to the Bones Cupcake™ with Halloween Balloon=$39.99
Best Halloween Flower Arrangements #4
This spooky spider arrangement looks great in a haunted house themed Halloween party where purple and green leaves give a realistic spider lair.
The purple passion plant also creates a scary aura with its lime green metal planter with three creepy crawlers above it. This could be also a great gift to make someone frighten for sun.
Price: $24.99
Best Hotel Deals this Season of Fall – A good time to relax and be cozy in a nice and warm hotel is what we want you to experience as the Autumn season start. Shopping For Deals Online continues to find the most suitable hotels where comfort and affordability are given.
Best Hotel Deals this Season of Fall #1
If you're planning to book a family oriented location, then this is probably the best hotel you could find in Las Vegas without having to sacrifice your budget. With a 4.2 out of 5 guest rating, Tahiti Village Resort & Spa consistently gets impressive reviews mostly from family guests.
Price: $86.00 (Save $29.00)
Best Hotel Deals this Season of Fall #2
"Very nice hotel staff and great service" This is what Best Western Valencia Inn often gets as a review from its guests. The complimentary breakfast which is served every morning is described to be adequate. The location is also good for family members to stay since it is near to Mountasia Family Fun Center
Price: $76.00 (Save $19.00)
Best Hotel Deals this Season of Fall #3

Pacific Shores Inn on Pacific Beach
Everyone loves the beach whether it's the season of summer or fall. For those who enjoy the sound of the waves and the beauty of a sunset, Pacific Shores Inn the perfect hotel for you. A simple beach getaway will definitely adds special moments with your loved ones.
Price: $110.00