Archive for December, 2012
Shopping for Deals Online and Golfsmith share with you these Holiday personalized golf gifts for men. This will help you decide on what to give to your husband, brother, or father if Golf is their game.
The e6 is designed for straight distance and will keep you from spending too much time in the woods looking for errant shots. The new e6 is the softest multilayer golf ball on the market, providing significant side spin reduction to minimize slice or hook spin, helping you hit the ball straighter and longer.
Price: $21.99 (Save $9.00)
Take the worry out of lost clubs once and for all with personalized Mydallions that you can attach to the end of each club grip. Give a golf gift they'll treasure. Just enter the personal information to have these lightweight anodized aluminum studs diamond engraved. 
Price: $49.99
It is the ideal personalized gift to give friends or family. The name on the bottom banner is sublimated and will hold up to the maximum of 25 characters.
Price: $19.99
This fits in your back pocket and is popular with Pros and amateurs alike. It is designed to protect the scorecard from perspiration and rain and provide a firm writing surface. The TPK Personalized Scorecard Holder also holds a course yardage book and pencil and stores a ball mark repair tool.
Price: $40.99
This handcrafted, solid wood hole-in-one golf ball shadowbox will capture that great shot. Included on the single ball display box will be an engraved brass plate. The shadowbox has a small acrylic door opening for easy placement of the prized ball and comes in your choice of red mahogany or natural oak finish.
Price: $64.99 (Save $10.00)
Shopping for Deals Online and Wine.com make holiday get-togethers more exciting and let you take advantage in finding the perfect wine Christmas gift to wow your loved ones. Wine.com gathered these favorite party wines that are easy-drinking, palate-pleasing and quite affordable.
Red Wine by Lancaster from Sonoma County, California. 97% Cabernet Sauvignon, 3% Merlot.
This fruit forward wine is lush and balanced with ripe cherry, cocoa powder and vanilla characters, and notes of red cherry and rose hips. 
A beautiful Bordeaux blend, brimming with blackberries, cherries, currants, mocha, herbs and smoky oak.
It's dry and softly impressive now, and the tannic structure suggests further aging for a few years.
Price: $29.99 (Save $18.01)
Red Wine by Clarendon Hills from McLaren Vale, Australia. Blackened crimson.
Blackened crimson. Lifted roast meats, spiced licorice, bitter chocolate, black fruit, chocolate pudding, crushed rock, peat, smokey teabag and gunpowder unite within this weighted and somewhat recessed example.
Sexy amalgamation of richness defined by great balance, positioned acidity and lengthy tannins.
The incredible mid-palate weight provides an excellent length of intensity and considerable nuance of flavour pursues.
Price: $49.99 (Save $35.01)
A golden color, distinctive of black grape varieties. Very fine bubbles. On the nose, it has a beautiful aromatic complexity, ripe fruit and spicy aromas, with hints of roasted apples, apple compote and peaches.
On the palate, there is a subtle combination of structure, length and vivacity. The bubbles are like velvet. Flavors of pear, brioche and spicy aromas, notes of fresh walnut.
Pair with all fish, especially sushi and sashimi, shellfish such as shrimp, prawns, crayfish and grilled lobster, poultry and white meat, cashews, parmesan or prosciutto.
Price: $59.99 (Save $15.01)
Authentic Brut epitomizes the Canard-Duchene style, where freshness and intensity bring together nobility and nature.
A blend of Pinot Noir and Chardonnay, the wine is characterized by fresh fruit aromas jostling with brioche notes.
The fruit aromas carry through to the palate and intermingle with pastry notes. Authentic Brut epitomizes is light-hearted Champagne, perfect for every occasion.
Price: $37.99 (Save $12.01)
On the nose the wine shows elegant notes of toasted oak, coffee, and spices followed by aromas of plums and black currants.
On the palate, the initial impact is soft but firm with a vein of acidity which gives greater freshness and crispness than usual.
The tannins are extremely elegant and the aftertaste is very persistent, with sustained and lingering notes of the coffee, berry fruit, and toasted oak first perceived on the nose. It is a vintage with a great aging potential.
Price: $89.99 (Save $12.01)
Shopping For Deals Online and Expedia give everyone a chance to have great winter vacations for families and enjoy Christmas together. Take advantage of Expedia's best deals around the world for hotel stays, vacation packages, and cruises.
Westin Lake Las Vegas is a family friendly resort located in Henderson's Lake Las Vegas neighborhood, close to Reflection Bay Golf Club and Lake Mead National Recreation Area. Other area points of interest include Tuscany Golf Club.
Price: $393.00 (Save $172.00)

Catamaran Resort and Spa is located on the beach in San Diego's Beach Cities neighborhood, close to Pacific Beach, Mission Beach, and Ocean Beach Park. Other points of interest near this spa resort include Seaworld and Mission Bay Park.
Recreational amenities include an outdoor pool, a health club, a spa tub, a sauna, and a fitness facility.
Price: $365.00 (Save $159.00)
Near the airport, Bellagio is located in Las Vegas's The Strip neighborhood and close to Crystals at City Center, Sands Expo Convention Center, and Las Vegas Convention Center. Nearby points of interest also include University of Nevada Las Vegas and Fashion Show Mall.
This 5 star property has a business center and offers small meeting rooms, a technology helpdesk, and limo/town car service.
Price: $382.00 (Save $166.00)
Located in Palm Springs, Riviera Palm Springs A Noble House Resort is near the airport and close to Palm Springs Aerial Tramway, Palm Springs Convention Center, and Palm Springs Air Museum.
This 4 star property offers small meeting rooms, audio visual equipment, and business services.
Price: $388.00 (Save $169.00)
Located in Denver, Renaissance Denver Hotel is in the suburbs and close to Northfield Stapleton, Denver Museum of Nature and Science, and Denver Zoo.
Nearby points of interest also include Dick's Sporting Goods Park and City Park.
Price: $457.00 (Save $199.00)
Shopping for Deals Online and 1800Flowers show that it is fun to give special Christmas gifts for her. Deliver holiday joy to her door with gorgeous fresh flowers, blooming plants or gourmet treats that express yourself perfectly to any woman on your gift list.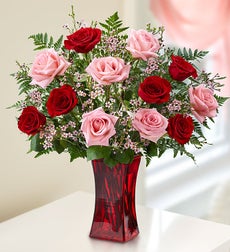 Take pink roses, symbolizing grace, elegance and appreciation. Add red roses, for love, courage and respect.
Send them together in this expressive arrangement, hand-designed in a gorgeous red glass vase, and watch the shades of pink and red she'll blush.
Price: Small – $59.99
         Large – $84.99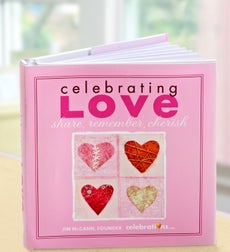 From lovers and soul mates to friends and family members, celebrate the unique relationships in your life with this inspiring and heartwarming book by Jim McCann, founder of Celebrations.com and 1800Flowers.com®.
Commemorating the many facets of love through all four seasons, it's a collection of stories, quotes and loving tributes to the peoples who matter most.
Price: $9.99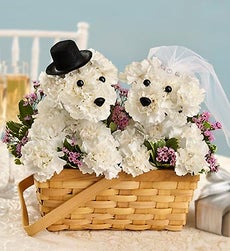 Unleash the bride and groom's smiles with a happy canine couple. Our truly original a-DOG-able® arrangement is ready to walk — down the aisle — with a hand-crafted pair of pooches, made using fresh white carnations and embellished with a top hat, tie, ribbon and rhinestone pin "rings."
It is artistically designed by our 1800Flower's florists in a splitwood handled basket with liner; basket measures 9.5″L
Price: $79.99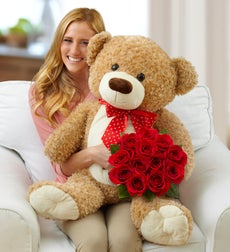 Tons of fun, tons of smiles. That's what they'll get when you send our colossal and cuddly plush bear.
He's ready to be adored, and ready to help you express yourself perfectly for any celebration. 
A gorgeous bouquet of radiant roses or roses and Peruvian lilies adds an even bigger wow.
Price: $94.99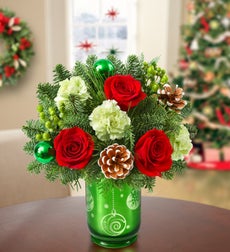 Send truly original tidings of joy to friends and family with this bouquet of red roses, green carnations, hypericum, assorted evergreens and green ornament balls, artistically hand-designed in our keepsake green and silver ornament votive.
Later, the included tea light candle can be used to add a festive holiday glow to the décor.
Price: Small – $44.99
         Medium – $54.99
         Large – $64.99